Our Equipment
By investing in the most advanced and up to date equipment we can give our customers the reassurance of the best possible standard of workmanship, accurate machining and efficient turnaround time.
This is just some of the specialised machinery used in our workshop.
SERDI 4.0 Cylinder Head Overhaul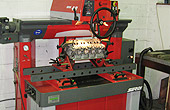 The latest Head Shop technology for complete cylinder head overhaul including valve seats, guides, inserts ,rocker stud kits, valve spring seats and larger valves.
AZ Boring Bar/Milling Machine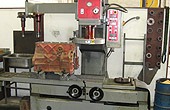 For reboring single cylinder to large diesels and V8 Blocks.
Cut liner recesses
Bore and Fit Liners
V8 Blocks bored off crankshaft line
AMC C4 Boring Bar/Mill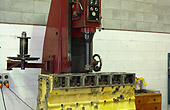 For milling Blocks up to large V12s
Machine large Block and Head Faces
Mill Block main tunnels for Line Boring
ReBore Blocks up to large V12
Uses Diamond Tooling for excellent machine finish
SCHOU 2000 Line Borer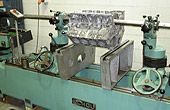 Line Bore all Blocks from vintage to large diesel
Fitt stepped or splayed steel caps to V8 Blocks for Line Boring
Repair and Line Bore Cam Tunnels
Re-cut main Tunnels and Thrust Faces after welding repairs
Replace Bushes and Line Bore Digger Buckets and make up new pins.
AMC Conrod Borer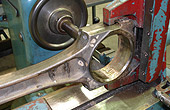 Reclaim Conrods from the smallest to the largest sizes
Bore and re-size Conrod Bearing Tunnels
Fit and Bore all Conrod Bushes-tapered or parallel
Specialist Welding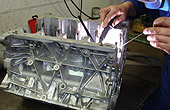 Cast iron, aluminium, stainless, Titanium
Weld and repair alloy/cast Cylinder Blocks
Weld and repair alloy / cast cyliner heads
Repair damage in main tunnels through Crankshaft failure
Weld-repair damaged Thrust faces; alloy or cast iron
If Block can be repaired we will fix it.
Weld-repair motorcycle housings and bike frames
Weld-repair exhaust / inlet manifolds